Grade A - Apple iPad Air 16GB 4G Cell + WiFi, Grey
We're sorry we're out of stock, but we can let you know as soon as this product becomes available again.
Enter your details below and we'll email you once this item is back in stock.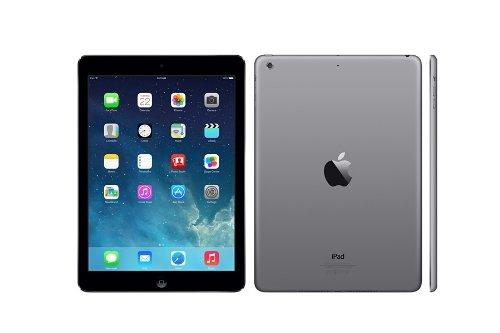 Send this product to a friend
Grade A - Apple iPad Air 16GB 4G Cell + WiFi, Grey £165.00
The iPad Air is unbelievably thin and light. And yet it's so much more powerful and capable. With the A7 chip, advanced wireless, and great apps for productivity and creativity — all beautifully integrated with iOS 7 — iPad Air lets you do more than you ever imagined. In more places than you ever imagined.
The most amazing thing about holding it is that you forget you're holding it.
iPad Air is astonishingly thin and light. Through a series of refinements, we were able to drop nearly a quarter of the volume of the previous-generation iPad. Yet from the moment you pick it up, you'll notice how durable it feels. Elegant unibody construction strengthens and simplifies the enclosure. We took everything we've learned about making unibody devices and refined the process to be even more material-efficient and exact. The result is an iPad Air that feels amazing to hold and is easy to take with you wherever you go.
What you don't see is just as important as what you do
More than ever, all eyes are on the stunning Retina display. iPad Air has thinner bezels on the sides of the display and a narrower width overall. But the size of the display stayed the same. It's a subtle change, but it makes a dramatic difference. You see it the moment the screen comes to life. The beautiful display is more prominent than ever. And your attention is on what matters: your content.
The software also works intelligently with the new display. Using a touch-rejection algorithm, iPad Air recognises if your thumb is simply resting on the display while you're holding it or if you're intentionally interacting with the Multi-Touch screen. It's a great example of how Apple hardware and software are designed to work together to give you the best experience possible.
Twice the power in even less space shouldn't add up. And yet it does.
The way iPad Air feels in your hand is remarkable. But just as remarkable is the way it performs. Even though iPad Air is so thin and light, we managed to pack an incredible amount of power and technology inside.
Hardware and software that were made for each other
iOS 7 and iPad Air weren't just designed to work well, they were designed to work well together. So the experience of using them together is seamless. Like iPad Air, everything about iOS 7 is simple and incredibly intuitive.
And iOS 7 on iPad Air was optimised to include thoughtful choices that take advantage of the iPad experience. For example, the Control Centre panel is in an easy-to-read horizontal orientation. In the Camera app, the shutter button appears on the side of the screen rather than at the bottom — because that's where your thumb is when you're holding iPad. All these small considerations make iOS 7 not just beautiful to see, but beautiful to experience.
Designed to have a big impact on the world. Not the environment
At Apple, we're always thinking about the impact our products have on the world. And we know that impact continues after the end of a product's useful life. That's why nearly every Apple product is made from highly recyclable materials like aluminium, and why we go to great lengths to exclude harmful toxins from our components.
iPad Air is a perfect example. The aluminium enclosure is highly recyclable. And every iPad Air is free of brominated flame retardants (BFRs) and polyvinyl chloride (PVC). In fact, Apple has one of the strictest BFR-free and PVC-free standards in the industry. And we expect the same from our suppliers. So we actually disassemble our products into individual components and materials in our Cupertino lab. Then we test those components using a variety of methods, including X-ray fluorescence spectroscopy and ion chromatography. We do this to ensure that every product we release meets our environmental standards.
Features All-new design
iPad Air weighs less than half a kilo, and it's 20 per cent thinner.2 But even though it's extremely light, it has a refined aluminium unibody enclosure that feels solid and durable in your hand.
9.7-inch Retina display
Photos and videos look incredibly detailed and text is razor sharp on the stunning Retina display, which features over 3.1 million pixels — a million more than an HDTV.
Ultra-fast wireless
Now you can get up to 2x faster Wi-Fi performance using 802.11n with MIMO.4 And the Wi-Fi + Cellular model supports more networks for fast connections the world over.1
Powerful apps included
iPad comes with great apps for sending email, browsing the web and making video calls. It also includes apps that let you do amazing things with your photos, movies, music, documents, spreadsheets and presentations.