ESET Antivirus Software: 3 Devices - 2 Year Licence
We're sorry we're out of stock, but we can let you know as soon as this product becomes available again.
Enter your details below and we'll email you once this item is back in stock.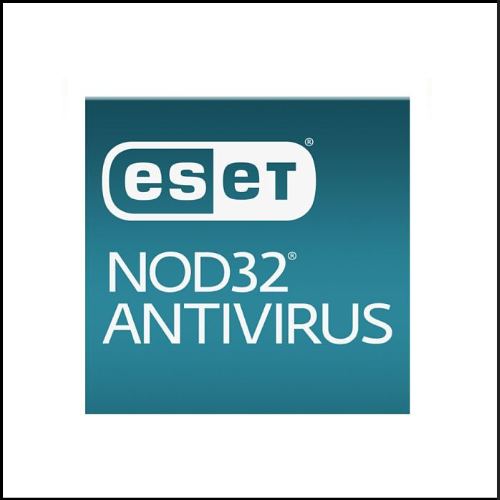 Send this product to a friend
ESET Antivirus Software: 3 Devices - 2 Year Licence £71.99
ESET NOD32 Antivirus ESD
Single 3 Device Licence via email 
2 Years
PC, Mac & Linux


Perfect for gamers, power-users and slower PCs
With the legendary ESET® NOD32 engine at its core, ESET NOD32 Antivirus provides essential defense against malware, built on ESET's trademark best mix of detection, speed and usability.
With the legendary ESET NOD32 engine at its core, ESET NOD32 Antivirus provides essential defense against malware, built on ESET's trademark best balance of detection, speed and usability. As well as award-winning ESET Antivirus and Antispyware, it offers Gamer Mode for lightweight protection while gaming, and includes your personal monthly Security Report. Its Exploit Blocker feature is designed to detect and defeat ransomware and lock-screen attacks. Like all ESET products, ESET NOD32 Antivirus protects your PC with our UEFI Scanner and Advanced Machine Learning. With License Manager you can manage your connected devices and licenses via our my.eset.com platform.
       
Legendary NOD32 Antivirus
Protects you against all types of malware, including viruses, ransomware, worms and spyware.
Light on computer resources
Enjoy the full power of your computer. Play, work and browse the internet without slowdowns.
Uninterrupted gaming and videos
No system updates or annoying pop-ups while you play games or run a program in full-screen mode.                
 Award-winning protection
Independent evaluators put ESET among the best in the industry, shown also by the record number of Virus Bulletin's VB100 awards.
State-of-the-art technology
Advanced Machine Learning, DNA detections and a cloudbased reputation system are just some of the cutting-edge tools developed in our 13 R&D centers.
Made in the European Union
ESET values, like integrity, reliability and independence, all stem from our European roots and are safeguarded by our private ownership structure.
Features
Antivirus and Antispyware
 Provides proactive protection against all types of online and offline threats and prevents malware spreading to other users.
Anti-Phishing
 Protects your privacy and assets against attempts by fraudulent websites to acquire sensitive information such as usernames, passwords or banking details, or feed you fake news from seemingly reputable sources. Protects you from homoglyph attacks (replacing characters in links with ones that look similar but are actually different).
 
Advanced Machine Learning
In addition to ESET Machine Learning in the cloud, this proactive layer runs locally. It is specifically designed to detect advanced, never seen before malware, while having a low impact on performance.

Exploit Blocker
          Blocks attacks specifically designed to evade antivirus detection and eliminates lockscreens and ransomware.
          Protects against attacks on web browsers, PDF readers and other applications, including Java-based software.
Advanced Memory Scanner
          Enables improved detection of persistent malware that employs multiple layers of encryption to conceal its activity.
     

Cloud-Powered Scanning
          Speeds up scans by whitelisting safe files based on the ESET Live Grid® file reputation database.
          Helps to proactively stop unknown malware based on its behavior, by comparing it with our cloud-based reputation system.


Scan While Downloading Files
          Decreases scanning time by scanning specific file types − such as archives − during the download process.
     

Idle-State Scanning
          Aids system performance by performing in-depth scans when your computer is not in use.
          Helps detect potential inactive threats before they can cause damage.
 
Device Control
          Allows you to prevent unauthorized copying of your private data to external devices.
          Allows you to block storage media – CDs, DVDs, USB sticks and disk storage devices.
          Lets you block devices connecting via Bluetooth, FireWire and serial/parallel ports.
     

Host-Based Intrusion Prevention System (HIPS)
          Lets you customize the behavior of the system in greater detail with focus on behavioral detection.
          Gives you the option to specify rules for system registry, active processes and programs to fine-tune your security posture.
Script-Based Attack Protection  
          Detects attacks by malicious scripts that try to exploit Windows PowerShell.
          Also detects malicious JavaScripts that can attack via your browser.
          Mozilla Firefox, Google Chrome, Microsoft Internet Explorer and Microsoft Edge browsers are all supported.
 Ransomware Shield
          Blocks malware that tries to lock you out of your personal data and then asks you to pay a 'ransom' to unlock it.
UEFI Scanner
          Protects from threats that attack your computer on a deeper level, even before the start of Windows - on systems with the UEFI system interface.